Valved holding chamber : Why ?
If your child or one of your relatives suffers from asthma or a respiratory disease, your general practitioner may have prescribed a valved holding chamber for administering pressurized metered dose inhalers (pMDI).
What is the purpose of a valved holding chamber ?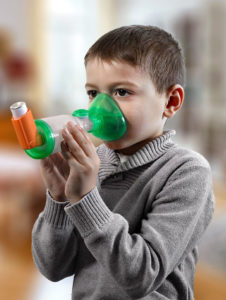 When the patient presses the spray to release a puff of medication, the medicine particles are expelled at high speed into the mouth. To ensure that these particles are deposited as deeply as possible in the lungs where they are needed, it is essential to synchronize your breathing with the release of the spray (hand-lung synchronization).
It can be difficult for young children and elderly, to have a good "hand-lung" synchronization. Poor hand-lung synchronization or mishandling leads to a deposition in the oral cavity and trachea without reaching the lungs. This potentially generates unwanted side effects (for inhaled corticosteroid treatments) and significantly reduces the effectiveness of the treatment.
The valved holding chamber allows the medicine particles to reach the deep lung and limits deposition in the mouth and throat.
Characteristics of a valved holding chamber
Created in the 1980s under the leadership of pharmaceutical manufacturers for the treatment of asthma with pressurized metered dose inhalers (pMDI), the valved holding chambers, formerly known as "spacer tubes", were solely intended to facilitate the treatment by limiting the need for "hand-lungs" synchronization.
Initially created with large volumes (sometimes close to 1 L), small volumes chambers became more popular in the 1990s, due to the modification of aerosols inhalers (much less powerful jets).
​
​Today, the expectations for valved holding chambers have gone beyond the single need of synchronization .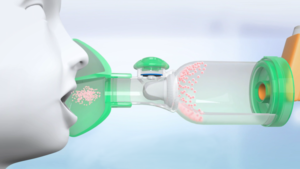 Valved holding chambers have progressively become highly technical products allowing the selection of fine particles, thus contributing to improve pulmonary deposition by limiting the oropharyngeal deposition of the drug, essential criteria of choice, especially for newborns and young children.