Spacer for mechanical ventilation circuit 
The CombiHaler® spacer for mechanical ventilation and critical care (ICU) allows using both a vibrating mesh nebulizer such as Aerogen®, and a pMDI. CombiHaler® is 100% designed and manufactured in France. Thanks to an adaptor, it also allows the use of a non pressurized MDI such as Respimat®.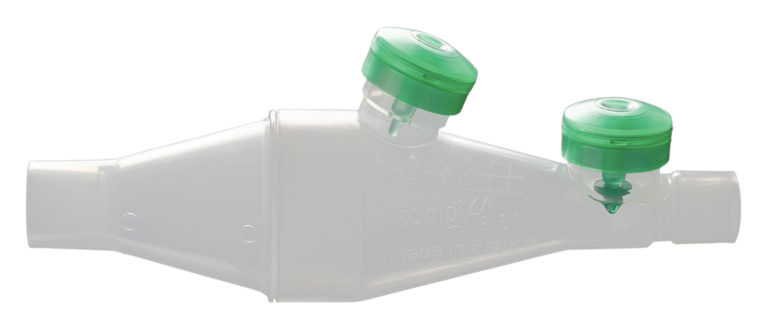 Specifications of the inhalation chamber CombiHaler®
CombiHaler® is a device aimed to improve respiratory drug deposition for ventilated patients in critical care (ICU). It was designed to allow the use of a pMDI and an Aerogen® together. 
Description of the device and its intended use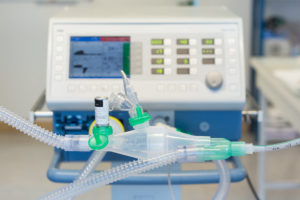 CombiHaler® is an inhalation chamber designed to be integrated on a breathing device circuit in invasive or non invasive ventilation. It is used in particular for connexion without intervention on circuit of a pMDI and/or an Aerogen® Pro or an Aerogen® Solo.
CombiHaler® is intended to administrer drugs by both nebulizer and pressurized metered dose inhaler (pMDI). It limits in particular deposition by impaction and / or sedimentation of substances in the inhalation chamber.
La chambre d'inhalation CombiHaler® est à usage unique et est destinée à être utilisée à l'hôpital, en service de soins intensifs, ou en Hospitalisation à Domicile (HAD).
Who is it for ?
It is intended for patients suffering from Chronic Obstructive Pulmonary Disease (COPD), asthma or chronic obstructive respiratory insufficiency in critical care.
Principes of operation
The inhalation chamber is intended to be integrated on a circuit of a device for mechanical ventilation and breathing to be traversed by a gas flow.
CombiHaler® has four ports opening into its interior. The CombiHaler® inhalation device has two ports designed to be connected with the circuit of the critical carerespirator, one for the entry of a gas flow and one for the output of the gas flow. CombiHaler® also has an opening for receiving a pressurized metered dose inhaler and an opening for receiving a nebulizer Aerogen® Pro or Aerogen® Solo.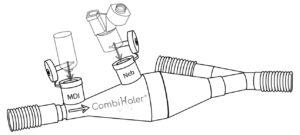 The openings for receiving the pMDI and the nebulizer Aerogen® Pro or Aerogen® Solo are both formed in the upper part of the inhalation chamber (patented and patent pending). The arrangement of apertures for receiving the pMDI and the nebulizer, not facing but one adjacent the other, allows to avoid the deposition by impaction of the particles, for example, produced by the nebulizer Aerogen® Pro or Aerogen® Solo on the inhaler or vice versa.
What are the benefits ?
Connect an Aerogen® on a ventilation circuit through a CombiHaler® provides significant benefits for ventilated patients and care-givers in critical care (ICU).
1. Save 50% of the nebulized drug :  Used to connect Aeroneb®, CombiHaler® provides a pulmonary deposition of nebulized medication twice the traditional assembly with T piece.
2. Still efficient after hours : The original design of CombiHaler® allows the use with an Aeroneb® several hours without sealing the orifice of the pMDI.
3. More simple to use, CombiHaler® simplifies the job of caregivers in critical care units.
4. Single patient use, CombiHaler® may be used in ICU for time as long as the ventilation circuit itself.
5. As a single patient device, CombiHaler® can be used for the entire life of the ventilation system itself.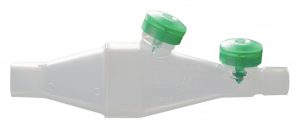 The trademark Aerogen® belongs to The Aerogen Company Limited.
The trademark CombiHaler® belongs to Laboratoire OptimHal-ProtecSom SAS. The patents belong to Tours University, INSERM and Laboratoire OptimHal-ProtecSom SAS together.