Spacer for mechanical ventilation circuit
CombiHaler® solo is a spacer designed to be used in invasive or non invasive mechanical ventilation and critical care (ICU). CombiHaler® solo is 100% designed and manufactured in France. CombiHaler® solo device allows the administration of medicines by pMDI without disconnection of the circuit and is designed for situations where a nebulizer is not necessary.

Who is it for  ?
CombiHaler® solo spacer is intended for patients suffering from Chronic Obstructive Pulmonary Disease (COPD), asthma or chronic obstructive respiratory insufficiency in critical care.
CombiHaler® solo is a single patient device that can be used in hospital (ICU) and for home hospitalization.
Why should you use CombiHaler® solo spacer ? 
CombiHaler® solo spacer provides significant benefits for ventilated patients and care-givers in critical care (ICU) : 
1. Using CombiHaler® solo in mechanical ventilation circuits allow to save up to 50% of the drug contained in pMDI.
2. No change of the ventilator settings : reduces the risk of errors.
3. CombiHaler® solo transparent material allows for the monitoring of the circuit.
4. Single patient use, CombiHaler® solo may be used in ICU for time as long as the ventilation circuit itself.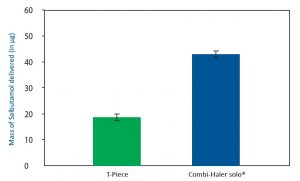 The CombiHaler® solo trademark belongs to Laboratoire ProtecSom SAS.